Nutrition
Introducing Smart Protein™
Here at PhD we are constantly in touch with the market and observing how it evolves. Having a young and fitness-enthused team with a consumer mindset, we believe we have a hands-on relationship with both the existing and new customer. We know how they are thinking and what they need.
Over the past few years there has been a shift in how gym goers choose to consume their protein. Whilst the majority of us still use the no-nonsense approach of drinking their protein shakes, it's clear that a lot of consumers pursuing a lean & functional lifestyle are seeking new & creative ways of getting their protein hit as opposed to just drinking it. The beauty of Smart Protein™ is that it allows you to do both.
Pancakes, waffles, brownies, mousses, tray bakes, scones, you name it, the fitness community is eating it. However, it's proving evident that finding the right product has been a challenge for many:
"It doesn't rise properly when baking"
"It's a little clumpy when mixed"
"It's still a bit chalky in texture"
"It tastes poor"
We've (quite literally) experienced all the challenges at hand when using protein powder in cooking, baking & mousse formats and it got us thinking:
What if we can create a product that is tailor made to be highly versatile, macro friendly, actually work and deliver on all of the above and STILL be unsurpassable on taste?
Well, we accepted the challenge and Smart Protein™ was born. Added to the already highly successful and growing Smart Range; Smart Protein™ fits in perfectly with the consumer need of "Great taste, macro friendly protein led and low sugar foods".
Cook, bake or mousse with Smart Protein™ and be spoilt for choice, you can even use our indulgent & functional bars and snacks as toppings (Smart Bar™and Smart Bar™ Butter)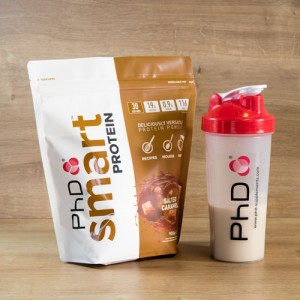 Make the Smart Choice.