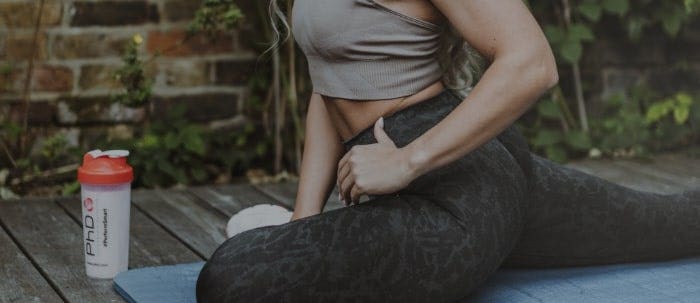 Our Pre Workout powders and capsules are designed to give you the best possible start to your training session. Whether it's explosive energy and power you're looking for, a caffeinated fat burner, or powerful pre workout shots for a serious cardio session, we have you covered.
Pre Workout
Burn Pre Workout Powder
Our Burn Pre Workout is the best option if you are looking to drive fat loss, preserve muscle gain, and boost your energy. It is a scientifically backed formula for effectively using fat as fuel, and works to ensure you preserve muscle mass while training.
Benefits of Burn Pre Workout:
Targets fat as primary source of fuel
Contains caffeine and L-Carnitine for a potent fat burner
Protects muscle tissue
Tastes great and comes in two satisfying flavours
Charge Pre Workout Powder
Charge Pre Workout is the best option for those looking for explosive energy and power throughout their workout. This powder is designed to help you unleash your maximum effort and drive your gains through sheer relentlessness. BCAAs and Creatine make a potent combination for explosive power.
Benefits of Charge Pre Workout:
Concentrated mental and physical performance
Formula for explosive energy
Sugar free
Muscle pump and lactic acid buffering
Pre Workout Shot
Charge Pre Workout Shots are the perfect option for you if you're on the go, need a huge energy boost and want to smash your workout.
Benefits of Pre Workout Shots:
A carefully designed formula to drive energy, streamline focus and push beyond mental and physical barriers
3000mg Beta Alanine / 200mg Caffeine
250mg Alpha GPC
Sugar free
High in B Vitamins
FAQs
What are pre workouts?
Pre workout powders and capsules are designed to drive intense workouts with energy boosting ingredients that enable you to push to your highest level and train seriously hard.
They mostly contain ingredients such as caffeine to drive performance, and creatine which increases performance during high intensity bursts of exercise.
When should I take pre workouts?
Usually around 30-60 minutes before your workout.
How much caffeine should I have before a workout?
That depends entirely on your tolerance, though we recommend starting out with a lower dose and gradually working your way up if needed. Around 100-300mg per serving is fairly standard in pre workout products, so this is a good barometer.
How long do the effects of pre workouts last?
This depends on the ingredients and how many stimulants are in the powder or capsule. Typically, they can last up to 6 hours after consumption.