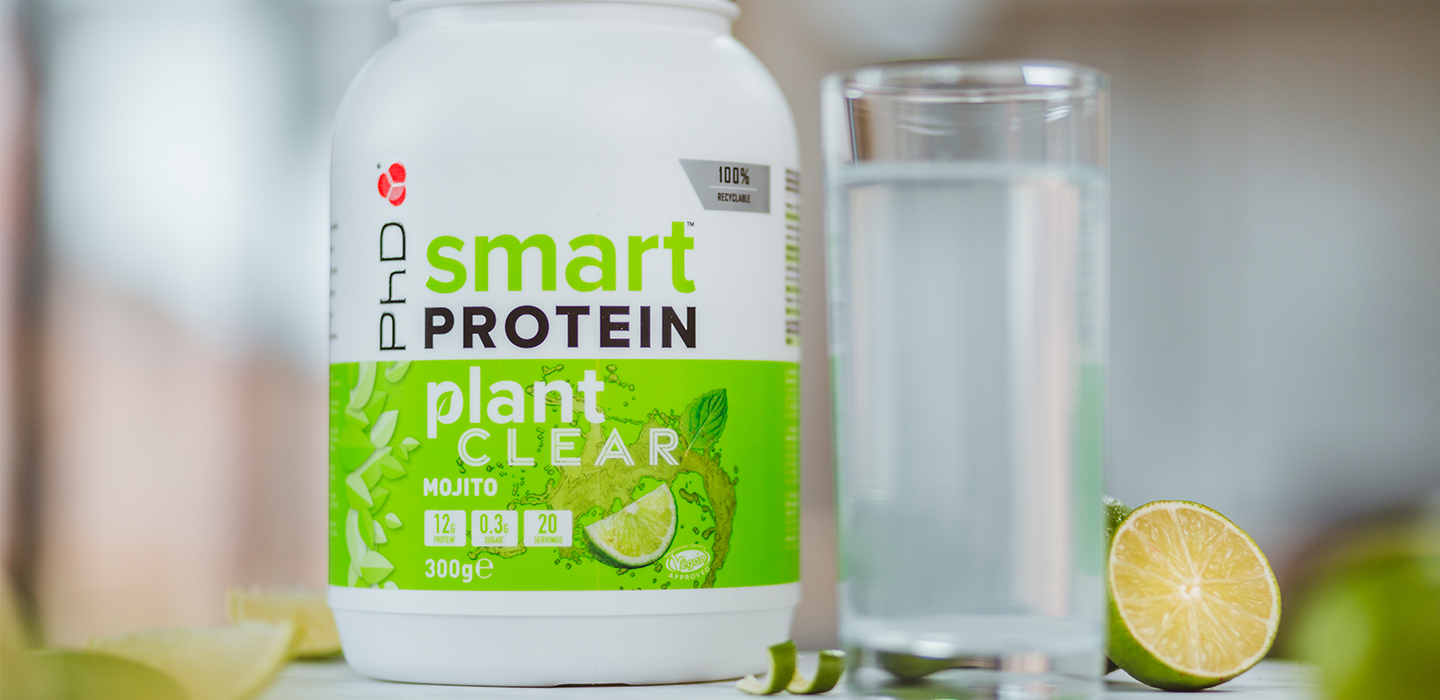 We're constantly looking at ways to innovate your protein experience. After all, it's been decades now since the first protein shakes hit the market (and they were clumpy, lumpy, and hard to swallow!) We know you sometimes want a protein drink that's clean, clear, and super refreshing.
Why did we come up with "Clear" protein?
That's exactly what we've developed with the new PhD Clear Protein range. But we didn't leave it there. We took the technology and created three separate Clear proteins – for three different dietary approaches.
Meet Diet Whey Clear, Smart Protein Clear, and Smart Plant Clear available in a selection of cocktail-inspired flavours – just in time for summer. What a refreshing change!
The benefits of a "Clear" protein
We took on a big challenge – and found a tasty solution that cleverly fits any macros.
The problem? Traditional whey-based protein products can feel thick and taste milky. And some plant-based protein powders can be heavy and gritty.
By reworking the way our protein powders are created, we've slashed the carbohydrate content, removed the heaviness, and cleared that milky texture.
The result? A clear, light protein shake that's more like fruit juice. And the macros are awesome!
Our three Clear proteins are the ultimate in clean, lean protein. And did we mention the flavours? Choose from orange margherita, strawberry daiquiri, mojito, peach ice tea, strawberry, lemonade, and grape. Delicious!
What is Diet Whey Clear?
Keeping a close eye on your macros? Diet Whey Clear will help you hit your protein intake with almost zero carbs, sugars, or fats. This refreshing and super tasty clear protein shake is your ultimate fat loss friend. We've added the three most popular fat burning ingredients: green tea, carnitine, and CLA.
The macros: over 20g protein (from whey protein isolate), less than 4g carbs, and under 100 kcals per serving.
Best for: low-carb dieting, fat loss, physique goals
What is Smart Whey Clear?
If your usual choice is an all-rounder whey protein but you don't like the milky texture, you need to try Smart Whey Clear. This premium whey protein isolate drink is light and totally refreshing, with none of the heavy milk mouthfeel of a traditional whey.
You'll get a whopping 20g protein from whey protein isolate, and less than 1g sugar per 85 kcal serving.
Best for: increasing protein intake, supporting muscle mass
All about Smart Plant Clear
Prefer a plant-based protein? We've got you! Smart Plant Clear brings our clear protein technology to non-whey protein powders, so you can enjoy a plant-based protein drink that's refreshingly clear.
We recognised that you sometimes want a light protein drink – but you'll never want to compromise on your plant-based decisions.
Smart Plant Clear could be the most innovative vegan protein on the market. Each serving will give you 12g high quality vegan protein from hydrolysed pea protein, and less than 1g sugar, plus extra added B-Vitamins to support your diet goals.
Best for: vegans or plant-based eaters, boosting protein intake
Which Clear protein is right for you?
You usually use: a standard whey protein
Choose: Smart Whey Clear – clear, refreshing drink made from fast-dissolving whey protein isolate
Flavours: pina colada, orange margherita, strawberry daiquiri, mojito
Per serving: 86 kcals, 20g protein, 0.9g carbohydrate, 0.1g fat, BCAAs
You usually use: a diet whey or ultra-low carb whey
Choose: Diet Whey Clear – ultra low calorie and low sugar high protein drink with no milky taste
Flavours: peach ice tea, strawberry, lemonade
Per serving: 100 kcals, 21g protein, 3.4g carbohydrate, 0.1g fats, CLA, l-carnitine, green tea extract, BCAAs
You usually use: a plant-based protein powder or blend
Choose: Smart Plant Clear – an amazingly light and refreshing vegan protein drink with almost zero carbs
Flavours: strawberry, grape, mojito
Per serving: 55 kcals, 12.4g protein, 1.1g carbohydrate, 0.1g fat, 1884 BCAAS, Vitamin B6, B12, and folic acid.
Try for yourself and we think you'll agree Clear is here to stay.