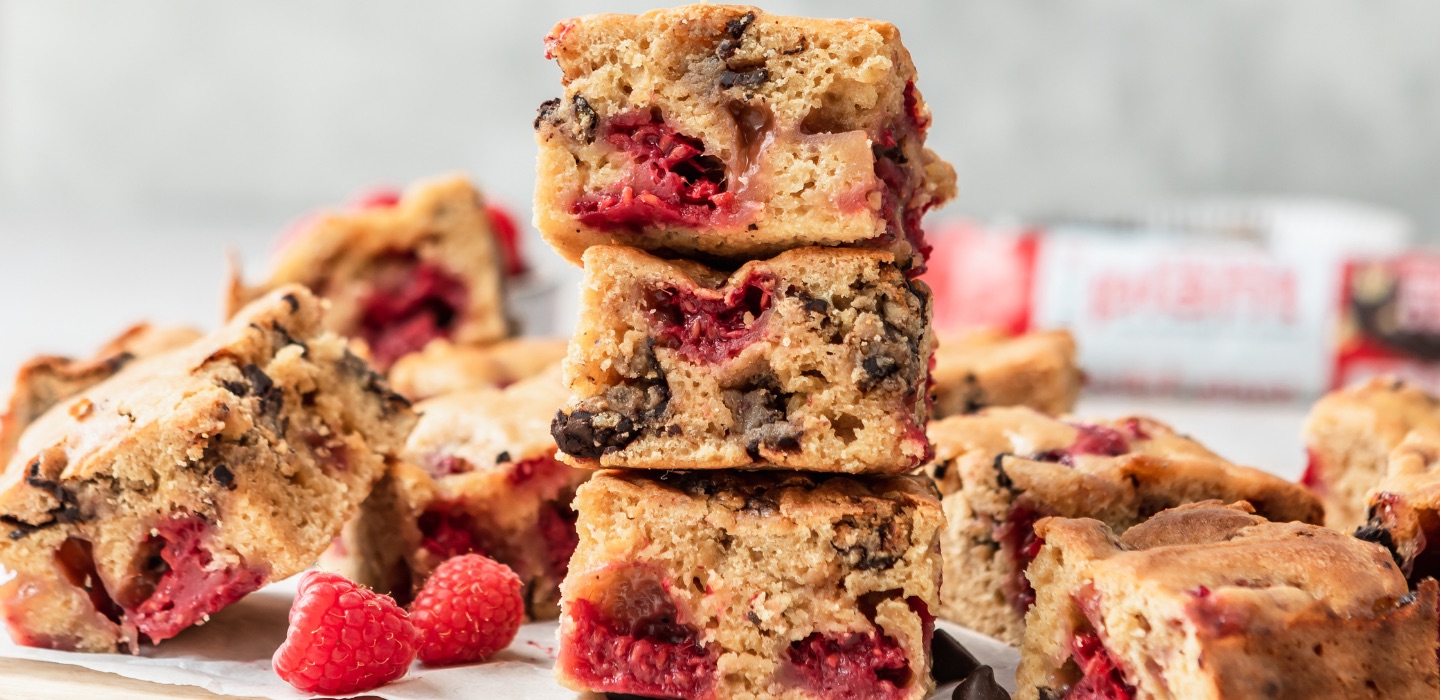 Looking for a tasty plant-based treat post-workout or even just to snack on when you have a sweet craving? We've got you covered with our delicious Raspberry & Peanut butter Blondies featuring our best selling high protein PhD Smart bar Plant this easy recipe serves 16 slices which will have you snacking style with enough to share (or keep to yourself – we know what we'd do).
Raspberry and peanut butter jelly blondies macro-friendly recipe
Per serving (Recipe serves 16 slices)
Kcal – 162
Fat – 2.4
Carbs- 29.4
Protein – 4.7
INGREDIENTS
275g plain yoghurt
250g light brown soft sugar
1tsp vanilla extract
40g maple syrup
225g plain flour
1 tsp baking powder
Pinch of salt
150g raspberries
2 x PhD Smart bar Plant peanut butter jelly flavour, chopped into small chunks
METHOD
Preheat oven to 180°c, grease and line a 20cm x 20cm square tin with parchment.
Add the yoghurt and sugar to a mixing bowl, whisk until combined then add the vanilla extract and maple syrup and whisk again.
Once smooth, add the flour, baking powder and salt, fold together until just combined, then fold through the raspberries and a chopped PhD Smart bar Plant peanut butter jelly.
Spoon into the prepared tin and bake for 25-30 minutes, until golden and a skewer comes out clean.
Allow to cool slightly before removing from the tin and cutting into 16 squares.
Make sure to let us know how you get on with your blondies and tag us in your recipes on social media @phdnutrition, we love seeing your workouts, get creative, and be a part of our community. If you want to make sure to check out more of our amazing recipes here or grab yourself some more of our tasty PhD Smart bar Plant.