Are you looking for vegan recipes for beginners or just trying to figure out some staple recipes to begin your vegan journey? We've put together a selection of vegan recipes with a healthy amount of protein, and a selection of ingredients for you to try.
Give them your best shot and share the results with us via Instagram!
Puy Lentils with Smoked Tofu
Ready in about: 15 minutes, Servings: 2
Ingredients
1 large courgette, diced

3⁄4 cup chopped smoked tofu

1⁄2 tsp. smoked paprika

11⁄2 tbsp. apple cider vinegar

250g cooked Puy lentils

1 red onion, finely chopped

1 medium-size roasted red pepper, sliced • A handful of rocket leaves

Cooking spray
Instructions
Grease the nonstick pan with cooking spray, add the courgettes, tofu, and smoked paprika. Sauté the courgettes until they soften (about a few minutes). Add in the vinegar to sizzle and reduce.
Meanwhile, add the lentils, onion, and pepper in the bowl, gently tossing to break up any lentil clumps. Toss in the tofu and courgettes. Just before serving, scatter the pea shoots on top.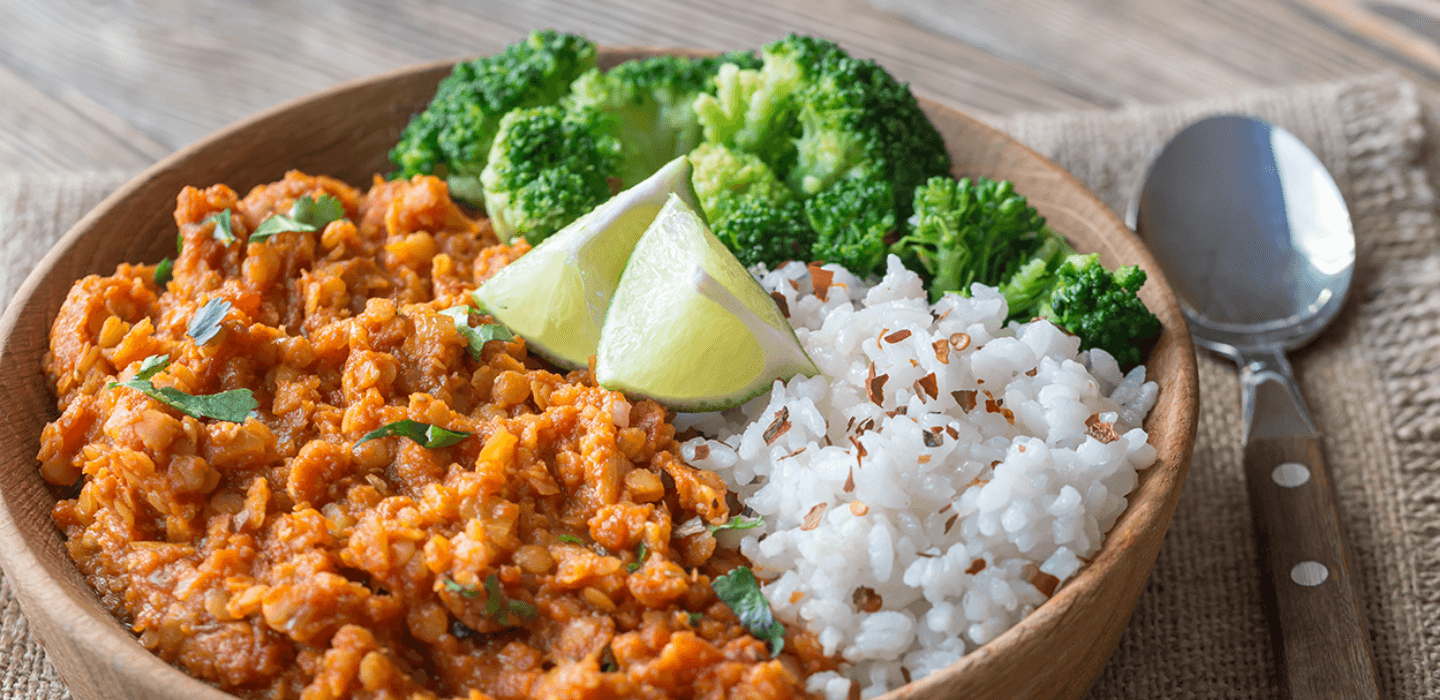 Tofu Lentil Coconut Curry with Broccoli
Ready in about: 15 minutes, Servings: 5
Ingredients
1 tbsp. coconut oil

1 tsp. minced garlic

2 tbsp. fresh minced ginger

1 tbsp. curry powder (more if you want spicier)

1 tsp. turmeric

3⁄4 tsp. sea salt

1 can coconut milk

1 tbsp. maple syrup

11⁄4 cups steamed Lentils, homemade or store-bought • 14 oz. tofu, cubed

21⁄2 cups broccoli

2 tbsp. freshly squeeze lemon juice
Instructions
Add coconut oil, garlic, ginger in the large skillet and put it over medium heat. Sauté for a few minutes, frequently stirring to avoid burning.
Add curry powder, turmeric, salt, and cook more for a minute. Then down the flame to low, add the coconut milk maple syrup, and cook for three minutes.
The stunning bright colour and aromas will captivate you! Add lentils, tofu, and broccoli in the coconut curry sauce, and cook for a few minutes longer until the broccoli is tender.
Add additional spices (if you want), add fresh lemon juice, and serve alone or with cauliflower rice, brown rice, quinoa, baked sweet potato, or roasted vegetables.
Lentils and Brown Rice with Tofu
Ready in about: 20 minutes, Servings: 2
Ingredients
1 tsp. olive oil

1 cup chopped onion

1⁄2 cup cooked brown rice, homemade or store-bought • 1⁄2 cup chopped green bell pepper

4 oz. firm tofu, pressed and cubed

1⁄2 cup cooked lentils, store-bought

1 tbsp. low-sodium soy sauce

1-2 tbsp. fresh lime juice
Instructions
Put the heavy-bottomed skillet over moderately high heat; heat the oil.
Place in onion, bell pepper, and cook, occasionally stirring, for nearly 5 minutes until onion is lightly browned.
Stir in tofu and cook more for 2 minutes until tofu is lightly browned.
Now place in leftover ingredients and continue cooking more for 2 to 3 minutes, until lentils and rice are heated thoroughly.
Pasta with Kale and Red Pepper
Ready in about: 20 minutes, Servings: 4
Ingredients
For the vegetables:
1 cup chickpeas

2 garlic cloves (minced)

1 cup sliced green olives

4 cups chopped kale

2 tsp. olive oil

1 medium red bell pepper (chopped) • 1 medium onion (sliced)
For the sauce:
1 tbsp. Italian herb mix

1 tsp. sea salt

2 tsp. olive oil

1 cup tomato sauce

4 oz. textured soy protein

1 cup vegetable broth, low sodium For the garnish:

4 tbsp. fresh basil
For the pasta:
Instructions
Preheat the large pot of water and cook the pasta as per the package directions. Drain and set aside.
Add the vegetable broth to the pot, boil, and combine it with the textured soy protein using a spoon.
Heat the oil for the sauce in the frying pan and roast the textured soy protein for about 5 minutes. Combine the tomato sauce, herbs, and salt and pepper to taste.
Add the oil and sauté the garlic and onion using the large frying pan. Add the kale after sautéing the sweet pepper for nearly 1-3 minutes.
Roast the vegetables, chickpeas, and olives more for 5 minutes until slightly soft. To serve, place some pasta and sauce on a plate, top with vegetables, and garnish with parsley; enjoy!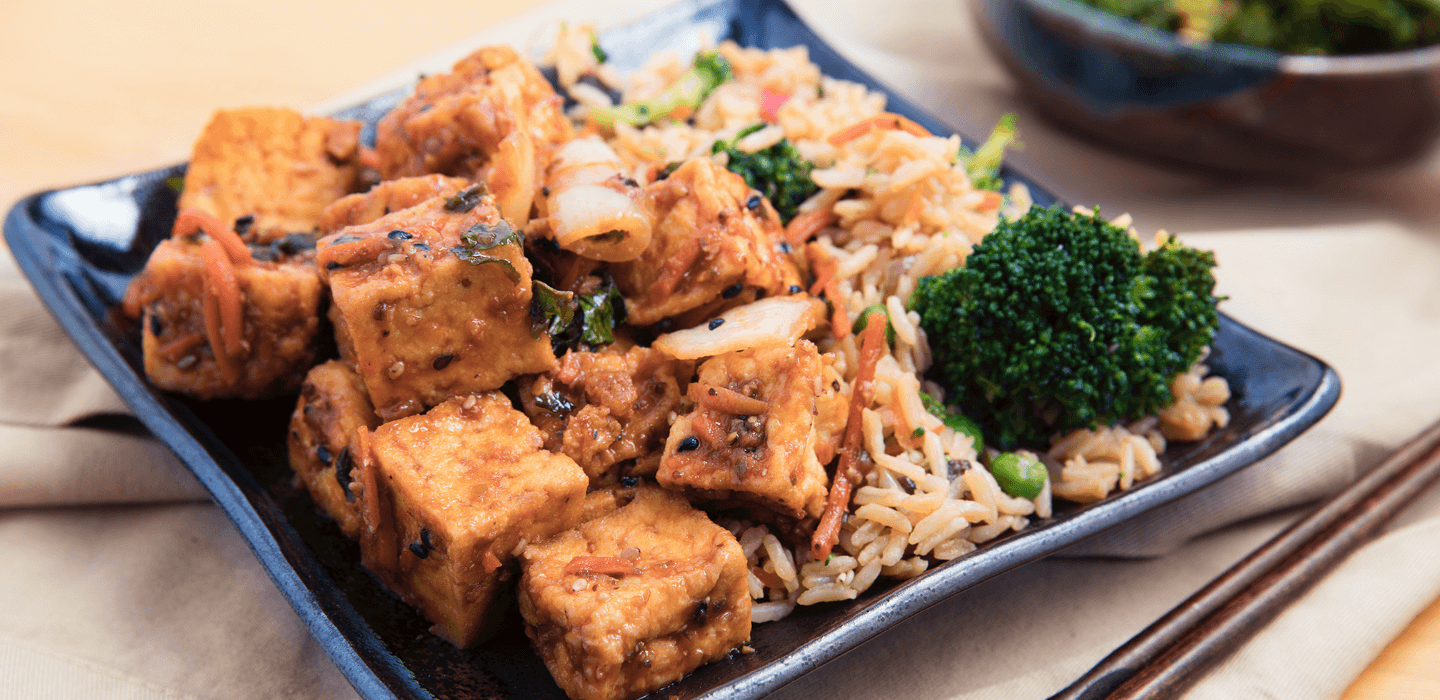 Green Gram Sprout Protein Salad
Ready in about: 20 minutes, Servings: 2
Ingredients
For the bean sprout salad:
4 tbsp. almonds slivered (toasted) • 1 cup halved cherry tomatoes

1⁄2 of a cucumber, sliced

2 cups green gram sprouts

2 tsp. olive oil

1 medium-size shallot

8 oz. crumbled tempeh
For the seasoning:
Dash of ground black pepper • 1⁄2 of lime for juice

1⁄2 tsp. sea salt
Instructions
In the frying pan, add oil, put it over medium heat, add the tempeh, and fry until golden brown, about 5-10 minutes.
If you prefer not to have the shallot raw, stir fry it with the tempeh.
Add the salad ingredients to the bowl and add salt pepper (according to your like). Serve immediately.
Check out the Plant based range here to see our best plant-based protein powders, plant protein bars and healthy vegan snacks.
Don't forget to fuel yourself Pre, Intra and Post-workout – You can grab yourself all your workout must-haves here.  Make sure to let us know how you get on with your training program and tag us in your workouts on Instagram, Facebook, and Twitter – @phdnutrition.
We love seeing your workouts, recipes, and having you as part of our community. If you want to make sure to check out more of our amazing blogs here or grab yourself some of our other Smart Whey Protein plant to fuel your workouts even further.