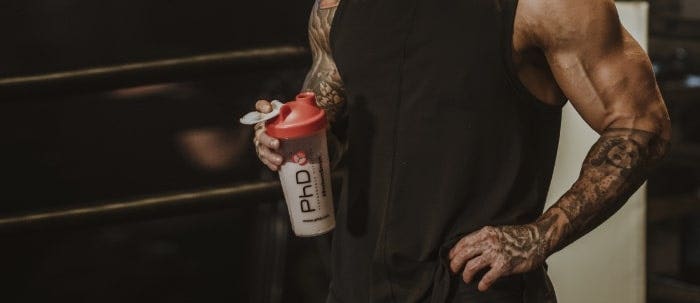 For a tasty plant-based option, our vegan protein powder is an exceptional choice. Delivering around 22g of protein per serving, PhD plant-based protein is perfect for anybody looking to increase their protein intake and fuel their training while following a vegan diet.
Vegan Protein Powder
Whether you're training to increase muscle mass, achieve a leaner look or drive your weight loss goals, our vegan protein powder is the perfect companion. Low in fat and sugar, our plant-based protein contains under 100 calories per serving and contains BCAAs and L-Glutamine to support muscle recovery. For a great-tasting and easy-to-mix vegan protein powder, discover PhD today.
Smart protein plant

From shaking to baking, using in a mousse, pancake mix or any other tasty treat that you can think of, our vegan protein powder is the perfect option if you're looking for versatility. Ideal for making plant-based protein bars or enjoying as a vegan protein shake, our Smart Protein Plant will keep you fuelled. Whether you're looking for an in-between meal snack or want a boost to power you through your workout, our vegan protein powder covers all bases.
Meet your macros
For a protein packed snack that will help you meet your macros, our vegan protein products use a combination of plant-based protein sources to deliver a more complete amino acid profile. It can be tricky to get enough protein intake while following a vegan diet, so plant-based protein powders can be a convenient and tasty way to do so.
Shop PhD vegan protein powder
For delicious protein shakes and so much more, try our vegan protein range today. Choose from strawberry, chocolate cookie and salted caramel flavours to make truly tasty vegan protein shakes that are unbelievably low in sugar!

From protein powders to shakes and protein snack bars, our wide range of protein products have been expertly engineered to keep your body strong and healthy. To up your protein intake inline with your plant-based diet, discover PhD vegan protein powder and plant based-protein bars today.

Looking to boost your overall health and wellbeing? Our extensive range of sports nutrition products also includes multi-vitamins and minerals to keep you feeling and performing at your best.