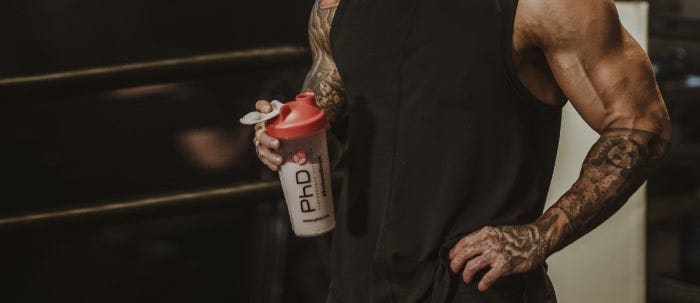 By combining key ingredients for performance, recovery and refuelling, we've created the ultimate protein blend to support muscle gain and sustain high-performance recovery. Containing creatine to combat fatigue, our diet protein blend has been created with science in mind to power you through even the toughest of sessions.

Protein Blends
BUILD MUSCLE MASS
Looking to build muscle mass and drive your protein intake? Our range of lean blends also includes Advanced Mass, a blend of high-quality ingredients for hard gainers. For a high carbohydrate protein blend that will accelerate your recovery, our mass gainer blend contains 50g of protein per serving!
MAKE PERFECT POST-WORKOUT SHAKES
After an intense workout, your body needs fuel. Here at PhD, we also offer lean blends with a muscle building formula. So you can enjoy a boost of post-workout nutrition that will drive the impact of your training, as well as reduce muscle tiredness and fatigue.
PERFORMANCE BOOSTING LEAN BLENDS
Containing ingredients that are proven to boost performance in short intensity exercise bursts, such as creatine, riboflavin and vitamin B6, our diet protein blends will help you to maintain a lean physique and protect the body from oxidative stress.
A DOSE OF QUALITY CARBOHYDRATES
Perfect for endurance athletes pre or post-workout, strength trainers after an intense session, and athletes who want to add additional carbs to a high protein shake, our selection of protein blends contains quality carbohydrates for a healthy calorie boost.
SHOP PROTEIN BLENDS AT PHD
From diet protein blends to muscle gainers, our range of protein blends has been specially formulated to help you achieve your fitness goals. But our wide range of sports nutrition products doesn't end there!
To help you stay right on track, we also offer a wide range of high protein snacks, so you can fuel your body and satisfy your cravings, wherever your day takes you.
Amino acids are essential for your body. We get them from our diet and our muscles burn them for energy. Our range of PhD protein blends contains all the amino acids your body needs for optimal performance, helping to support your recovery, muscle growth, and keep DOMS at bay.