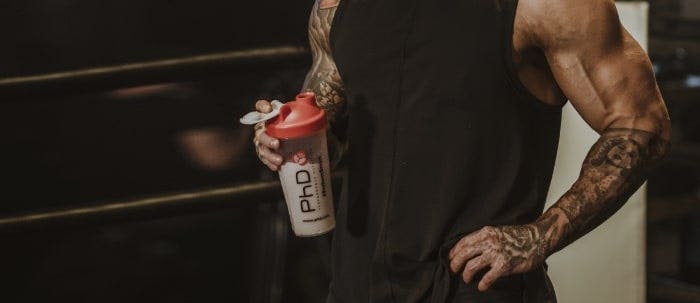 If you want to gain some serious muscle mass, choose Advanced Mass protein. This weight gainer is packed with protein, high in calories, and includes additional ingredients such as MCT oils to help you achieve your perfect physique.
Weight Gainer
Couple our Advanced Mass weight gainer shake with a high-calorie diet, and you'll have the best recipe for building quality muscle mass. To build muscle mass in an effective and sustainable way, discover our range of weight gainer products.
UNLOCK THE BENEFITS OF MASS GAINER PROTEIN POWDER
Containing 50g of quality protein, alongside a 4-stage protein blend with whey isolate, our mass gainer delivers 1,146 calories per serving! If you're looking for a way to conveniently boost your calorie intake, our weight gainer protein powder packs in 188g of carbohydrates to help boost the recovery process, available in four delicious flavours.
BUILD MUSCLE
One of the key components to building muscle mass is to create a calorie surplus in your diet by consuming more calories than you burn. Here at PhD, our weight gainer products are designed to help you easily achieve your goals!
When you are training hard, you will need a substantial amount of calories in your diet. This is why our weight gainer powder is such a popular option. By using this daily, you can reach your calorie surplus goals with high-quality nutrients, rather than relying on high-fat foods.
DIRTY BULK
If you're looking to gain weight very quickly, a surefire way to do this is by consuming foods that are high in calories, but often low in nutrition. Instead of opting for fatty foods that often have little nutritional value, choose a balanced, nutritious weight gainer powder to supplement your diet.
LEAN BULK
For a lean physique, focus on consuming only the highest-quality calories, that are high in nutrients and good-quality proteins, such as diet whey protein. Train harder and support your recovery by adding Advanced Mass weight gainer to your diet, packed with high-quality fats and carbohydrates.
SHOP PHD MASS GAINER PROTEIN
Here at PhD, we are experts in sports nutrition. Use our Advanced Mass weight gainer right after your workout to help boost your recovery, or use throughout the day in-between meals to boost your overall calorie intake. Available in 3 great tasting flavours, PhD mass gainer protein is the perfect option to support your muscle building goals.