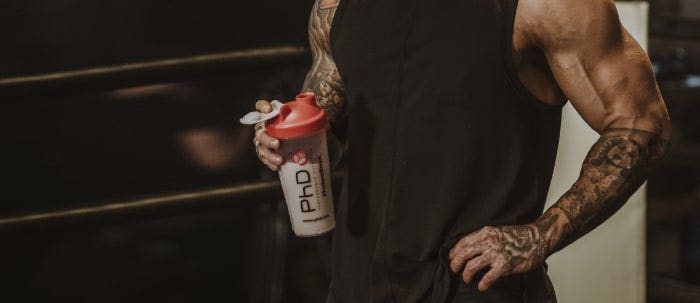 If you're looking to fuel your training with high-quality protein with less than 100 calories per serving, our Diet Whey Protein is the perfect solution for a leaner physique. Containing a variety of protein sources to deliver a rich profile of amino acids, PhD Diet Whey comes in 13 delicious flavours to satiate your appetite and satisfy your sweet tooth!
Diet Whey Protein
Low in both sugar and fat, our Diet Whey protein will support you on your weight loss journey and help to drive your efforts. From protein powder to meal replacements and snack bars, for curbing those mid-morning cravings, the PhD diet protein range is packed with products to support your wellbeing goals.
SUPPORT SUSTAINABLE WEIGHT LOSS
High in fibre and packed with vitamins and minerals, Diet Whey meal replacement is a tasty meal replacement shake that will not only keep you fuller for longer, but contains under 210 calories per serving! Enjoy all of the nutrients you would typically get from a well-balanced meal, with L-Carnitine and matcha tea to support sustainable weight loss.
KEEP YOUR BODY FUELLED ON THE MOVE
When you're constantly on the move, it can be difficult to grab a quick snack that doesn't derail your diet plan. The PhD Diet Whey range has something for those on-the-go days, with our selection of tasty and convenient snack bars. Power your training regime and support your weight loss with protein-packed, low-calorie snack bars.
THE BENEFITS OF PROTEIN DIET WHEY
Once you've sampled all 11 of our delicious diet whey protein flavours, it'll be tricky to choose your favourite! With 17g of protein per serving and less than 100 calories, our Diet Whey protein is ideal for fueling your training. It can support your recovery and help you to work towards a leaner physique. For low in sugar, low in fat, and great tasting protein, try PhD Diet Whey today.
SHOP PHD DIET WHEY
From protein powders to shakes and snacks, our wide range of protein products have been expertly engineered to keep your body strong and healthy. To build a leaner look, discover the benefits of Diet Whey.
Looking to boost your overall health and wellbeing? Our extensive range of sports nutrition products also includes multi-vitamins and minerals to keep you feeling and performing at your best.