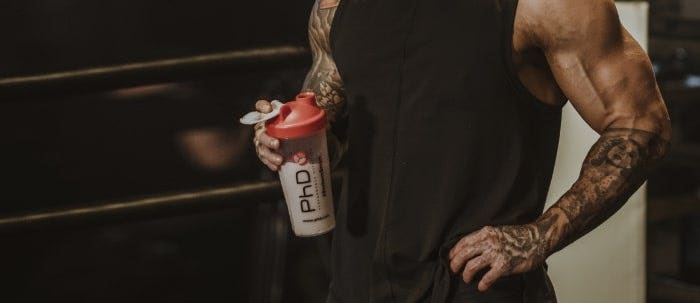 Reach peak performance during your workout with our specially formulated intra-workout supplements. Containing top-quality ingredients, the PhD intra-workout range will help drive your workout intensity without muscle burn, boosting your recovery time so you can train harder, for longer.
BCAA Capsules

Subscribe & Save 25%

From

£11.99

From

£14.99

Save 20%
Intra-Workout Supplements
Whether you're looking to gain strength or need a boost of stamina to smash a cardio workout, PhD intra-workout contains an expertly formulated mix of ingredients to help you take your workout to the next level. To reach new performance heights and achieve your training goals, discover the benefits of PhD intra-workout today.
Intra-workout drinks & supplements
Containing 7g of branch chain amino acids (BCAAs) per serving, our intra-workout drinks and supplements have been carefully engineered to give your body exactly what it needs. From an enriched recovery process for building quality muscle mass to an extra boost of energy when you need it, our intra-workout nutrition products are an absolute must-have for those wanting to reach their optimum level.
Achieve physical & mental peak performance
Not only is our intra-workout low in calories and sugar, but it also contains 2400mg of L-Glutamine, the most abundant amino acid in the body and a key component in muscle recovery. This thirst quenching fruit punch drink is packed with BCAAs and CocoMineral™, working to replace electrolytes lost through sweating. Give yourself a competitive edge and unlock your peak performance with our refreshing BCAA and electrolyte intra-workout drink.
Shop PhD intra-workout supplements
Whether you need a huge energy boost to carry you through your training session or you need a dose of hydration to prevent muscle breakdown during exercise, our intra-workout supplements have been carefully formulated to replenish your body, reducing tiredness and fatigue.

From pre-workout powder to post-workout supplements, our wide range of workout nutrition products have been expertly engineered to help you achieve your goals. To level up your workout, discover the benefits of PhD intra-workout today.

Looking to boost your protein intake? Our extensive range of sports nutrition products also includes protein powders and high protein snacks to support muscle recovery and keep your body feeling fuelled.