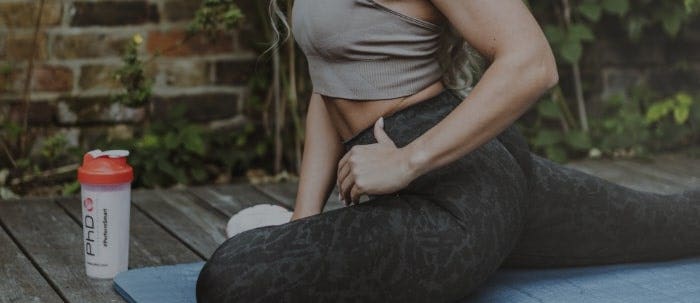 Reduce tiredness and fatigue with our innovative BCAA tablets and powders, formulated to help you increase branched chain amino acid intake and replenish electrolyte stores. Discover our range of amino acid supplements to give you a boost before, after and during workouts.
For an intra-workout amino acid supplement, try PhD Intra BCAA+, formulated with instantised BCAAs, CocoMineral™ coconut water extract, hydrolysed whey isolate, L-Glutamine and vitamin C.
Amino Acid Supplement
Discover PhD Intra BCAA+
The ingredients of Intra BCAA+ have been especially chosen to help you receive the essential amino acids that your body requires during a workout. The formulation includes premium hydrolysed whey isolate to help deliver 7g of essential branched chain amino acids per 15g serving, plus 2400mg of L-Glutamine.

Intra BCAA+ also includes CocoMineral™, a coconut water extract which contains the key electrolytes sodium and potassium, helping you to replenish those electrolytes lost through sweat when exercising. Perfect for taking mid-exercise, Intra BCAA+ also contains vitamin C, which is known to help reduce tiredness and fatigue.
Shakers & bottles
Our shakers and bottles are here to help you stay hydrated! The PhD Shaker Cup is a convenient and effective way to mix even the thickest of protein-based drinks. With a mixer ball made from electro-polished surgical stainless steel, lumpy shakes are now a thing of the past!

If you're looking for ideas to help increase your water intake, our 2.2L Handled Bottle is the perfect solution. Delivering the entirety of your recommended daily water intake, this bottle is ideal for the gym, home, work or any outdoor activities.
New to PhD?
Discover how we can support you to meet your training goals with our products, formulated by experts to help you perform at your best. Learn more about PhD and how we can help you upgrade your everyday.

If you have any queries about your order or any of our products, you can get in touch with our customer service team via phone, Facebook, email or live chat.