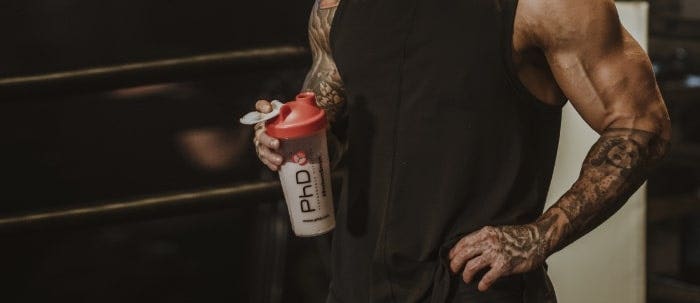 Enhance your recovery after exercise with our range of post-workout powders and supplements, specially formulated by our experts. Our tasty and effective protein shakes are ideal for refuelling directly after a tough session. With a combination of whey protein, essential vitamins, carbohydrates, amino acids and creatine in every scoop, you'll be one step closer to reaching your best performance.
Post-Workout Supplements
From whey to plant-based options, our protein products have everything you need for a replenishing post-workout drink, combining protein with fat-burning ingredients. If you're searching for a low-sugar snack after exercise, our convenient Smart Bars are available in a selection of your favourite flavours - perfect for on the go! Achieve your goals with our amazing range of post-workout supplements.
Diet Whey Protein: Discover the benefits
For a post-workout drink that aids weight loss and helps to build a lean physique, try our Diet Whey Protein. Our special formulation delivers a multitude of benefits, combining protein with fat burning ingredients such as l-carnitine, CLA and green tea extract.

Diet Whey Protein is versatile enough to be used at any time of the day to fit any nutrition plan. It's especially popular as an early morning smoothie to start your day off right or after a workout! Delivering 17kg of quality protein per serving derived from multiple sources, you'll experience the benefits of proteins being gradually released into the bloodstream at different stages.
Plant-based recovery
For a 100% plant-based, high-protein, low-calorie shake, choose Diet Plant. With the same great formulation and taste of the market leading PhD Diet Whey but completely plant-based, Diet Plant is ideal for individuals keeping to a vegan diet.

Diet Plant is suitable for men and women aiming to maintain or build lean muscle mass. With a greater emphasis on keeping body fat low, Diet plan is ideal for anyone who chooses to follow a plant based diet. Our packs are also 100% recyclable to help reduce environmental impact!
Shakers & bottles
Get hydrated on the go with our handy shakers and bottles! Our Shaker Cup is a convenient and effective way to mix even the thickest of protein-based drinks. With a mixer ball made from electro-polished surgical stainless steel, lumpy shakes are now a thing of the past!

If you're looking for ideas to help increase your water intake, our 2.2L Handled Bottle is the perfect solution. Delivering the entirety of your recommended daily water intake, this bottle is ideal for the gym, home, work or any outdoor activities.
New to PhD?
Here at PhD, we know that small choices can drive a big impact. Discover how we can support you to meet your training goals with our products and ideologies.

If you have any queries about your order or any of our post workout supplements, you can get in touch with our customer service team via phone, Facebook, email or live chat.